Do you love the beach? Whether you live on a coast, or just wish you did, these interesting chandeliers will take you there!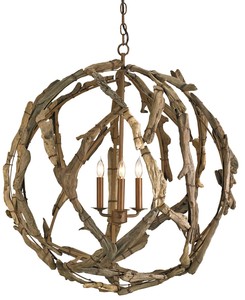 Driftwood Orb pendant lamp - currently available on Ebay
Full disclosure, these next pieces are by me! While working with a client a few years back, I couldn't find curtain rings that had the coastal look and feel that I was looking for, so I covered wrought iron rings with jute. I loved the look and feel so much, that I started up-cycling old lamps and chandeliers with jute and shells!
Close up detail of my Shell and Jute Chandelier
These starfish are removable!
Shell and Jute hanging pendant lamp by Vanessa Prieto, The Design Dreamer
Currently available at my Etsy shop
Another Shell and Jute hanging pendant lamp by Vanessa Prieto, The Design Dreamer
Currently available at my Etsy shop